Black Friday Fantastic Five
Our Black Friday sale is back, bigger & better than ever. Grab some frankly bonkers deals from Monday 23rd November. There's 5 deals in total - so you're sure to find something that suits you.
This is a 10 day sale and your quote is valid for 30 days. Simply request an official quote by 5pm, Friday 4th December and confirm order no later than 12pm Monday 4th Jan 2021. 
Call us on 0141 445 2288 to add one of these great deals to a new or existing quote. 
Quick heads-up: Due to the ongoing restrictions in the events and wedding industries, these offers can only be applied to events and weddings taking place from April 2021 onwards.
Deal 1 - 22% Off 2022 Weddings!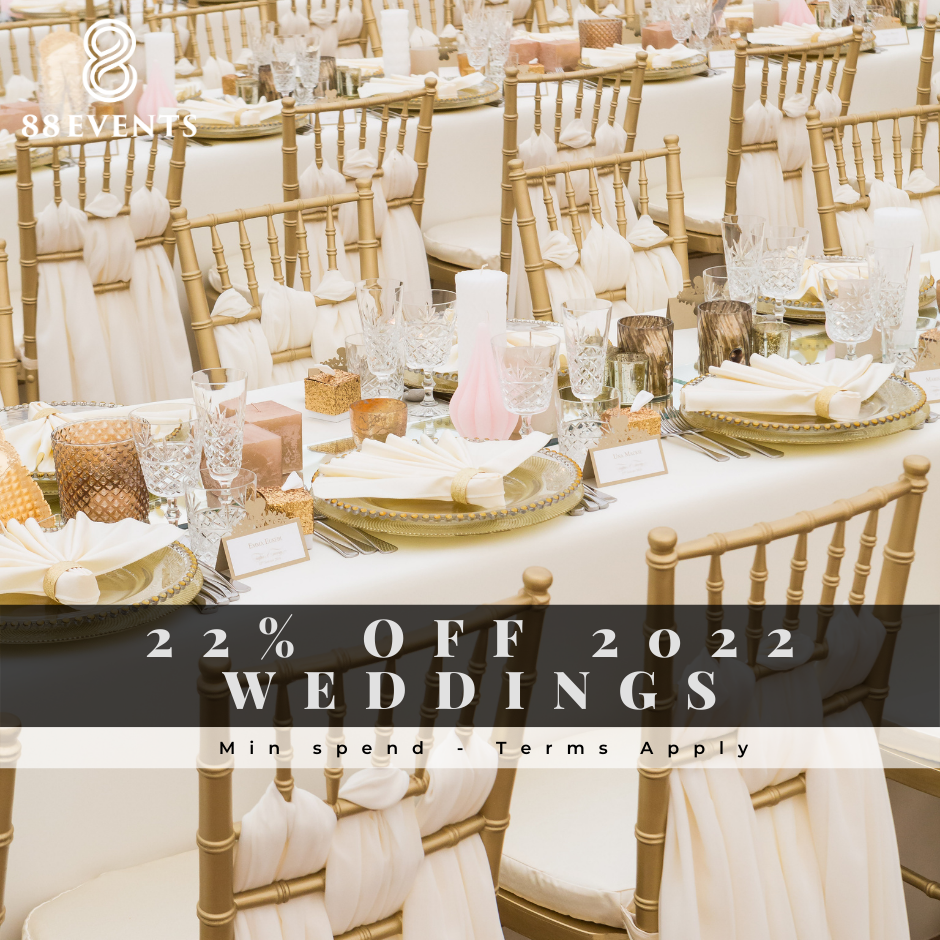 Get 22% Off Your 2022 Wedding!
Deal 2 - 15% Off Chiavari & Crossback Chair Hire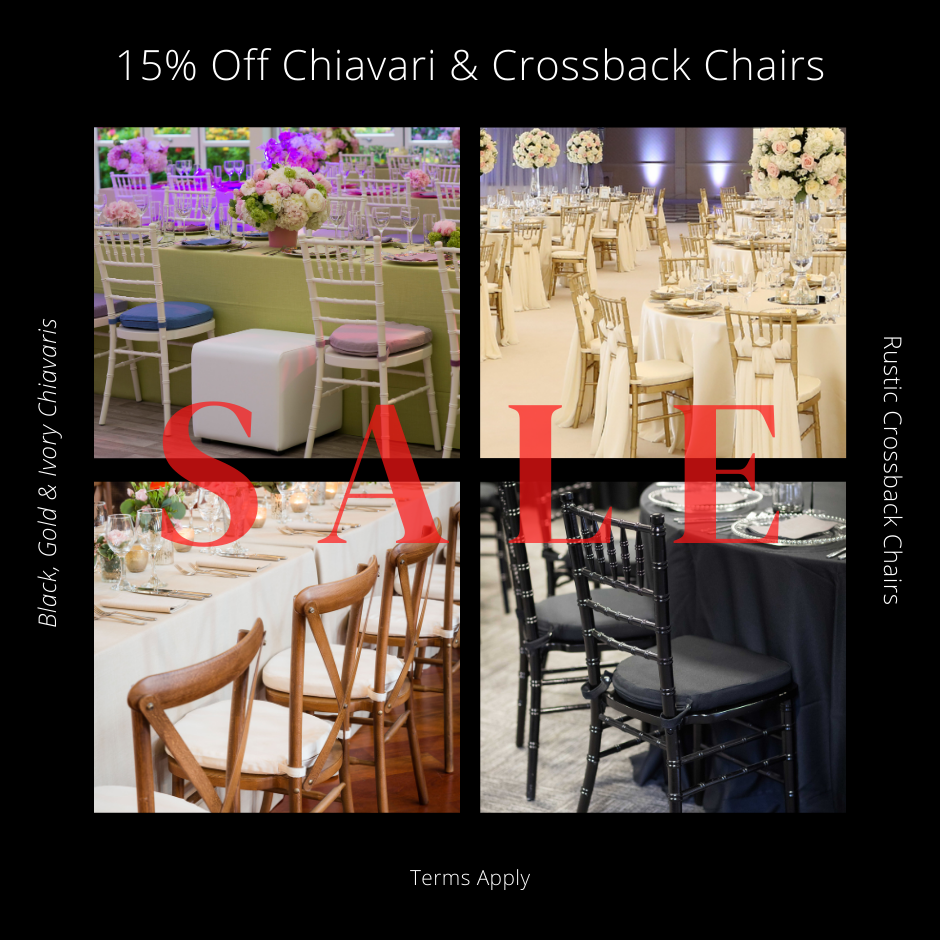 Get 15% Off Chair Hire!
Deal 3 - Free Delivery & Collection On Any Linen Order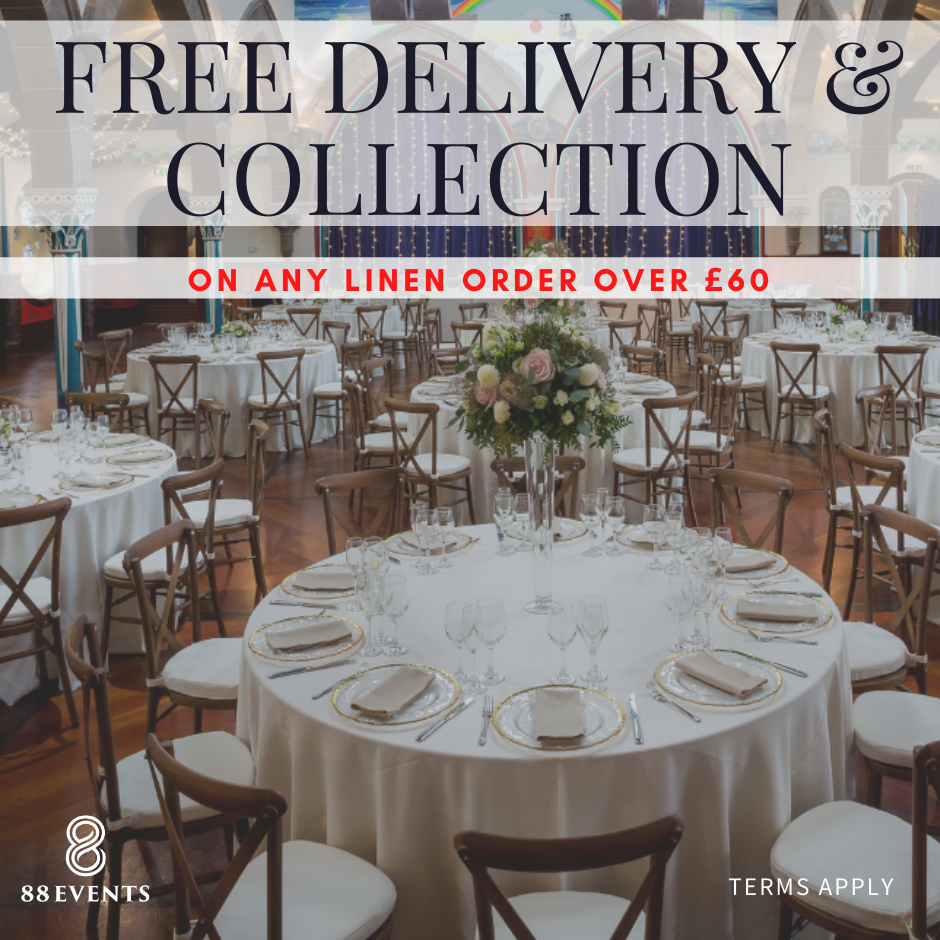 GET FREE DELIVERY & COLLECTION!
Deal 4 - Get 50% Off Napkins
GET 50% OFF NAPKINS!
Deal 5 - 20% Off Charger Plates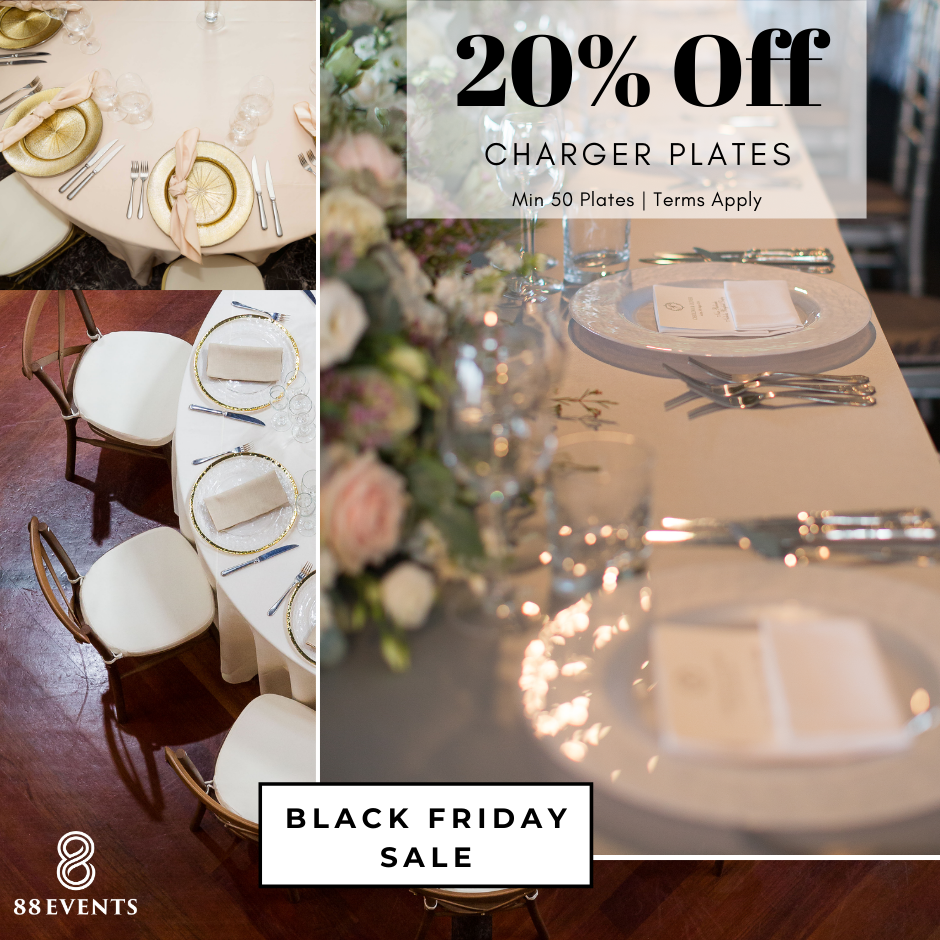 GET 20% OFF CHARGER PLATES!
Black Friday Fantastic Five Terms and Conditions:
The below offers are all valid on any NEW hire order. You must request an official quote no later than 5pm on Friday 4th December 2020 and confirm the order no later than 12pm Monday 4th January 2021.
The offers can only be applied to events and weddings taking place from 1st April 2021.
Only one of the offers can be applied to an order. 
The offers can't be applied to any pre-existing order or a postponed order waiting to confirm a new date due to Coronavirus. 
The offers can't be applied to set-up or delivery & collection charges except DEAL 3.
An order is deemed confirmed by way of received email confirmation for account clients and minimum 30% deposit for non-account holders.
Offer is restricted to one order only per person, company or venue if company operates out of multiple locations.
The Black Friday Fantastic Five promotions cannot be used in conjunction with any other 88 Events promotion.
All offers are subject to availability at the time of booking.
Normal cancellation charges will apply as per our Standard Hire Terms & Conditions, a copy of which will be sent to you at all times during the quote/order process.
DEAL 1: 22% Discount On 2022 Weddings applies to any 2022 wedding with a minimum hire order value of £600 inc. VAT. Private clients only.
DEAL 2: 15% Discount On Chiavari & Crossback Chairs applies to any order for Chiavari or Crossback Chairs. Minimum 30 chairs. Discount can't be applied to chair décor and/or non-standard cushioned pads.
DEAL 3: Free Delivery and Collection On Any Linen Order applies to any linen products such as tablecloths, napkins, runners, chair covers etc. with a minimum hire order value of £60 inc. VAT.
DEAL 4: 50% Discount on Napkins applies to all fabric ranges excluding made to order items such as Taffeta. Minimum 50 napkins up to maximum of 300 napkins. 
DEAL 5: 20% Discount on Charger Plates applies to all charger plates. Minimum 50 plates up to a maximum of 250 plates. Please note charger plates must be delivered on a dedicated van and costs for delivery & collection outside 50 miles from our Glasgow office can be substantial. We will advise you of carriage charges when you request a quote.
Please call the sales team on 0141 445 2288 to make an enquiry, click here to email us or click the button below to make a web enquiry:
GET YOUR BLACK FRIDAY DEAL!