Welcome To Our New Website
Welcome to our new website!
To say this has been a labour of love is something of an understatement.
We started planning this site late in 2018 with the good folks at Radiator but only committed to a final design in May this year.  We told them that it would only take us a month to add the content in and how wrong we were.
Over four months later we're finally ready to roll so here is a quick snapshot on what's different with 88events.com v7.0 
Big Change No.1 - A More Visual Hire Collection 
One of the downsides of our old site was that the great imagery we had was in so many different places. This meant that it was extremely difficult for a user to see just how many different styling options there are for each of our Hire Collection products.
There were photos in the portfolio section and hidden away in articles dating back years in our blog. Only the most committed of users would be able to find what they're looking for.
With the new site, pretty much every single product features a slider gallery that you can scroll through to see different action shots of our products.
So no more boring studio shots of a charger plate or a single picture of a table linen range. Now you get to see how the same product can work in different styling scenarios.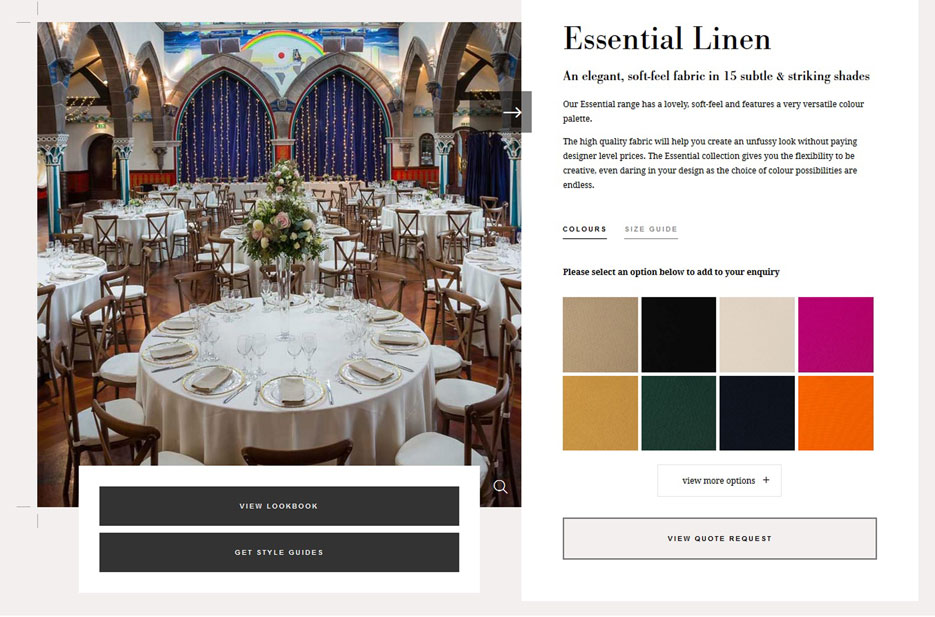 Big Change No.2 - New Quote Request Function
Another new feature is our new 'Quote Request Function'.
This makes it easy for you to add products to a quote request and/or request swatches by filling in a quick form.
We'll be developing this feature over the next 12 months but for now, we think it's a good starting point on the road to full e-commerce which is a notoriously difficult thing to do well in the event hire industry.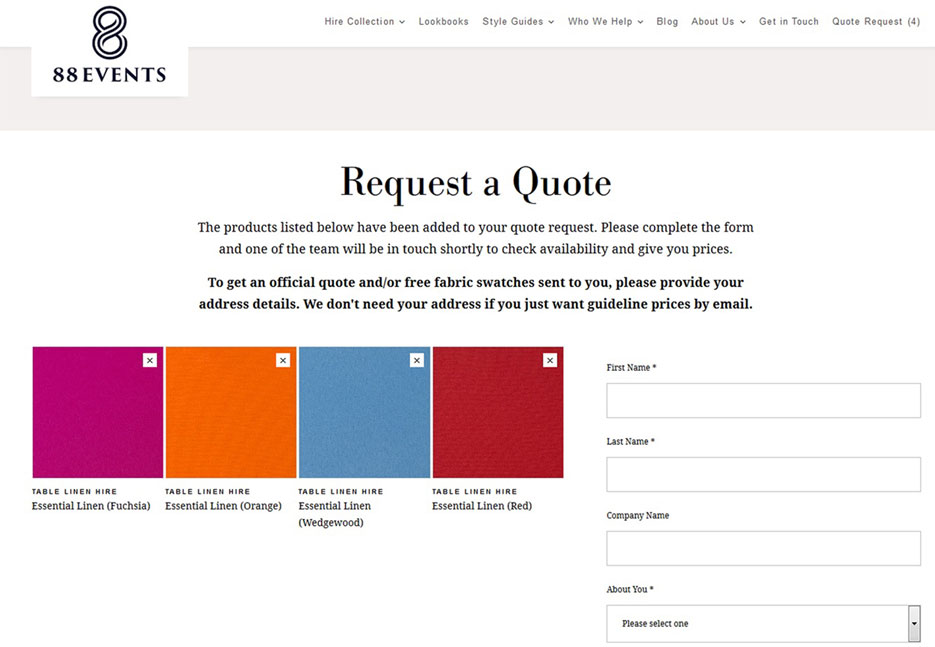 Big Change No.3 - Lookbooks Section
If there's one change we're most proud of it's this. Whilst the change to the Hire Collection imagery was vital it didn't solve the problem of context or theming.
The solution was the Lookbooks section. You'll find over 1,200 curated images from our vast back catalogue showcasing how you can use our huge range of products to create endless looks. Each lookbook falls into a certain category (14 in total) and we'll be adding to the 60 existing lookbooks as we move on and get even more new images.
The end result is that finally, you can see how our products can perform in different thematic settings and venues.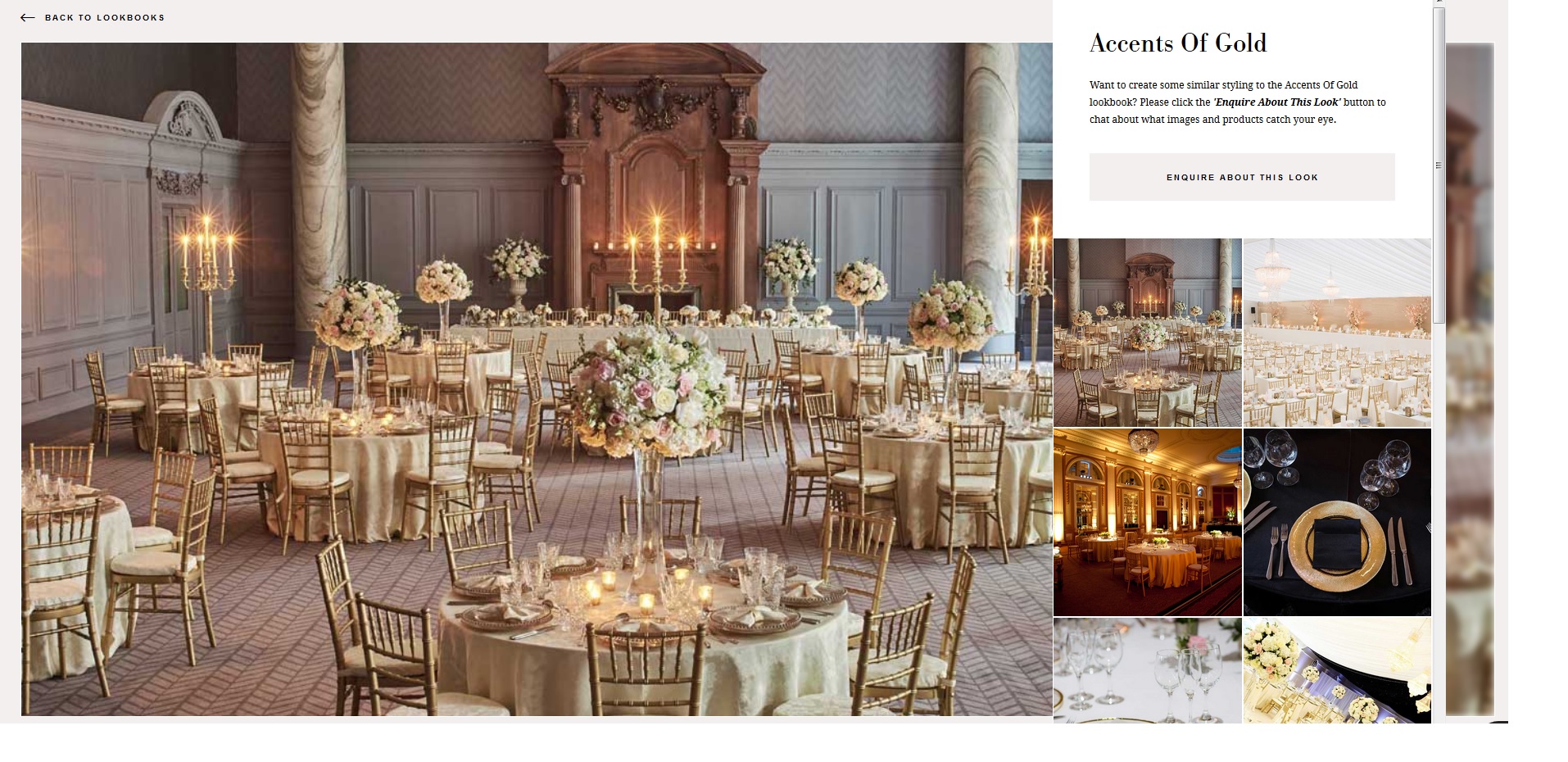 Big Change No.4 - New Style Guides Section (+ Special Discount offer)
If you've been hanging out at Planet 88 for any amount of time, you'll know that we like a guide or 2. We've finally managed to put them in the same place. And we've even added a new guide, called the Corporate Style Guide. It's a sister e-book to the Wedding Inspiration Guide and is aimed at companies who operate in the corporate space more than weddings. The vast majority of our clients cater to both B2B and B2C markets so take a look.
Oh, and we're offering anyone (new client and existing) a chance to get a discount when you sign up for our newsletters. Just download one of our guides or make an enquiry and you'll get all the details sent by email.
Big Change No.5 - New About Us Section
We've also updated the About Us section.
Our owner Marc is always asked at our client days how the company got started. So we persuaded him to finally write it out in full for us to share with you. The history of 88 Events and the true origin story of how we got into this linen game in the first place are both great stories and you can check them out at your leisure.
Below you can see a short video that walks you through some of the site changes (no sound!) but probably, the best thing to do is to check it out for yourself.
Happy surfing.