Look Of The Week No. 1 - Electric & Wedgewood Blue
Welcome to our new table styling series, 'Look Of The Week'!
Each week, we'll publish an image or two from our studio showcasing the myriad options you have when using our vast hire collection to style beautiful looking tables. 
To kick us off we've chosen the colour blue as it ties in very nicely with our blog post on Pantone's Colour of 2020 which is Classic Blue.
According to colormatters.com, blue has more complex and contradictory meanings than any other color.  These can be easily explained by pinpointing by the specific shade of blue.

Dark blue: trust, dignity, intelligence, authority
Bright blue: cleanliness, strength, dependability, coolness
(The origin of these meanings arise from the qualities of the ocean and inland waters, most of which are more tangible.)
Light (sky) blue: peace, serenity, ethereal, spiritual, infinity
(The origin of these meanings is the intangible aspects of the sky.)
Electric Blue Faux Silk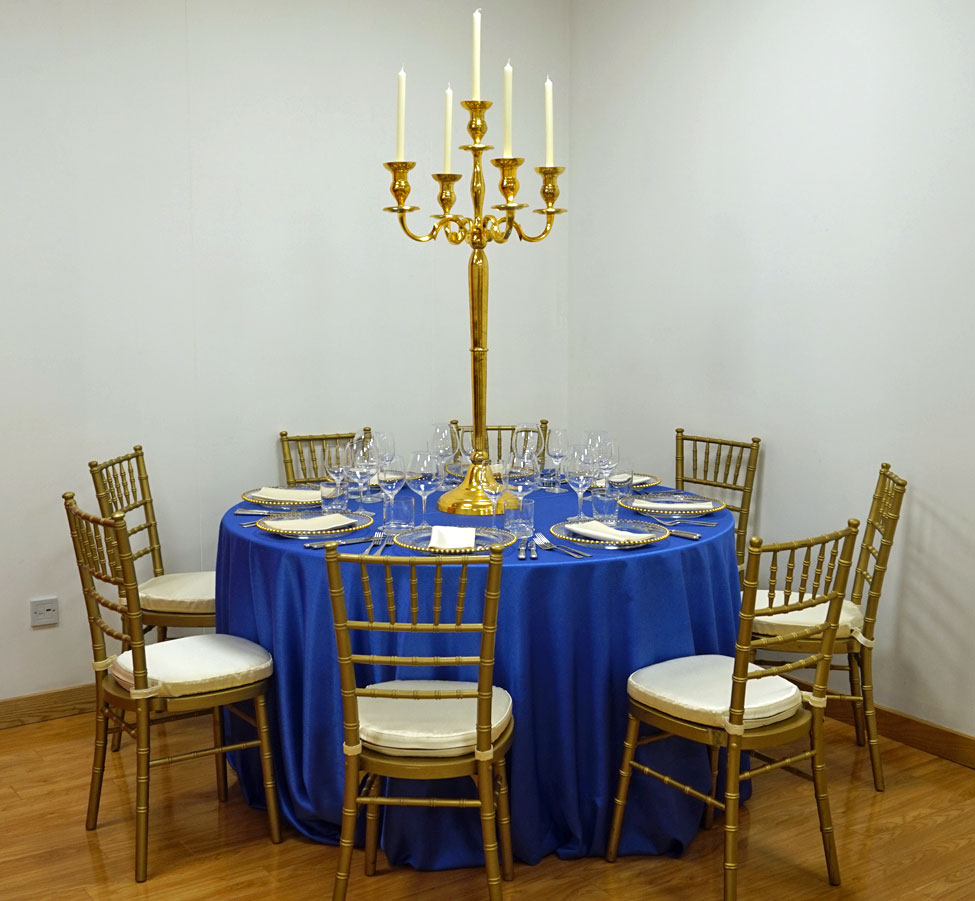 Our Faux Silk range has been going for some time and Electric Blue as shown here will work in many different contexts especially a corporate setting. We've teamed the blue with gold and ivory accents here. The napkin and chair pad are Vanilla Milano. Our chiavari chairs come with a cream Essential pad included in the price but we chose the upgrade option of Milano as the satin sheen set off the Faux Silk beautifully.
Products Featured:
Cost to hire this table 
From £109.85 or £10.99 per guest (ex. VAT)
Cost to hire linen & napkins only
From £23.60 per table or £2.36 per guest (ex. VAT)
Start A Conversation
Wedgewood Blue Essential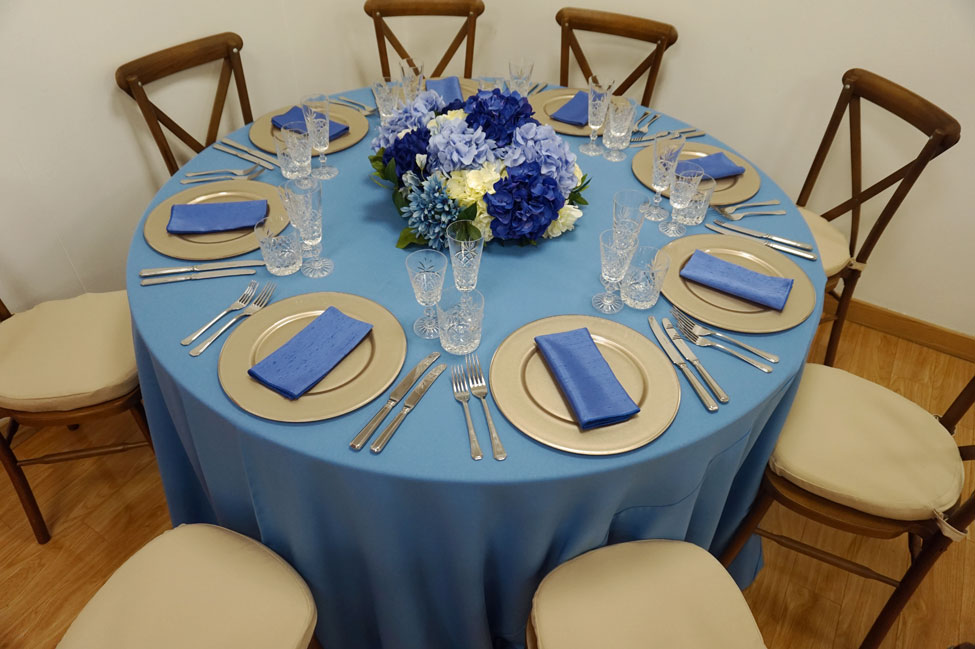 Our Wedgewood Blue Essential can add a touch of serenity to any event and we've paired it with some neutral and rustic touches here in the form of Crossback chairs and biscuit seat pads.
Products Featured:
Cost to hire this table 
From £81.40 or £8.14 per guest (ex.VAT)
Cost to hire linen & napkins only
From £21.40 per table or £2.14 per guest (ex.VAT)
Start A Conversation
Want More Blue?
Check out our 'Shades of Blue' lookbook for even more great images featuring 88 Events' blues.
"When designing an event, I prefer bland table styling with dull, shrunken and stained table cloths."

NO EVENT PLANNER EVER
At 88 Events, we're on a mission:
To help the UK's caterers, event agencies, venues, wedding planners and future newlyweds create the most beautiful table styling that their budgets will allow.
If you really care about the way your event looks then you'll find like-minded people at 88 Events. It doesn't matter whether you have £100 to spend on styling or £10,000. We'll help you create something special that still fits within your budget.
Get in touch to discover how we can help you create the most visually stunning event. And make you look like a superstar in the process!
Call us today on 0141 445 2288 or click the button below to chat.
Start A Conversation